Laser epilation
Professional laser hair removal device with 20,000,000 pulses and GERMAN laser bars!
Advantages:
1, German laser bars – integrated in the applicator, imported from the best German distributers which have extremely high energy efficiency and long life.
2. Spot – 12 * 20 mm large spot for treatment which significantly increases the effectiveness of the treatment. It has never been easier to remove unwanted hair.
3. High repetition frequency – Not only a large light spot size, but also a high repetition frequency, which increases efficiency to a greater extent. While a novice operator uses 1-3Hz, experienced operators can use 10 Hz.
4. Uncompromising cooling – Cooling is extremely important for diode lasers. We use semiconductors for the cooling system instead of freo. This is environmentally friendly, more convenient and efficient. The power of the cooling system is 800 watts.
5. Continuous Work regime – In the laboratory, it works for more than 24 hours without a problem.
6.Program Controlled pulse length – the wavelength is 808nm and the pulse width is controlled automatically by the program in accordance with an abundance of experiments and clinical research.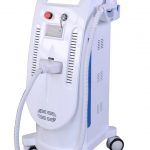 Characteristics:
Easy to use interface – provides some default energy settings depending on different areas and skin types. Pulse width is automatically controlled by the program in accordance with an abundance of experiments and clinical research. This diode laser is easy to use. You choose the area and type of skin, and start with a safe energy value by default.
Microchannel cooling system – Eliminating the flow of high temperatures is a major factor in a diode laser system, especially with such high power. The microchannel system is suitable for heat dissipation as it provides a large heat transfer area. Laser bars are no longer easy to break. The applicator is very durable. Optimal comfort during treatment is just one of the many additional benefits.
It's not just a good design, but perfect on the inside – More powerful, but extremely safe and comfortable. With the Thermal Electronic Cooling module and power supply, they also fit perfectly
German bars. This is a stable form where the laser generator and the function of the cooling system are in perfect harmony, creating a whole new experience.
TECHNICAL PARAMETERS:
Laser type – Diode
Wavelength – 808nm
Working area – 20 * 12 mm
Pus length – 1-400 ms
Energy – 1-160 J / cm2
Pulse frequency – 1-10
Display – 8.4 'color touch LCD display
Cooling – water-air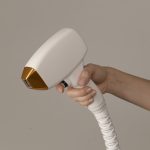 WHAT WE NEED TO KNOW ABOUT LASER EPILATION
MED PRO ZION LASER is a super powerful system for permanent laser epilation
A system for laser epilation with diode wavelength. It's particularly suitable for treating zones with denser and darker hairs along with the removal of thicker hair growth like on the legs, armpits and intimate parts. It's also capable of delicate facial hair removal, where the hairs are lighter and thinner. The diodes have a classic hair length (808nm) and that's why they're considered the golden standard in laser epilation. ZION LASER also allows work on tanned skin. The only condition is to not go to the beach or to a solarium a week before and a week after the procedure. The laser can even be used on very dark skin but then it should be applied at low energy which might lead to slower results. What you need to know about laser epilation is that the hair mustn't have been removed from the root 3 to 4 weeks before the procedure. Minimum 6 procedures are needed for the hair growth to be removed and for the effect to stay for a long time. The hair must be shaved a day before going to a laser epilation procedure.  Moles in the zone where the hair is going to get removed, will not be treated. The beam passes around it but never on it. Tattoos are also avoided. It's important to not be pregnant, breastfeeding, to not have skin allergy and illnesses, to not have been exposed to sunlight 7 days before and 7 days after therapy and also to not be on your period if you're treating your intimate areas. For Laser Hair Removal, the procedures should be 30-40 days for the face area, 45-60 days for the upper body and 60-90 days for the leg area. When performing laser epilation, sunscreen is recommended. If you complete the full course of the recommended for you procedures, you can expect the hairs to firstly become very thin, to start falling on their own, the growth to slow down and to gradually reduce to such an extent that they almost disappear. There is not technology that removes hairs 100% forever. The maximum effect that can be achieved is to reduce hair by up to 90% for a period of up to 10-12 years. For any questions you can contact our specialists on site or call 0878676064. You will receive adequate answers and kind treatment.
Price list - Women
| | |
| --- | --- |
| Upper lip | 15 lv |
| Chin | 15 lv |
| Cheekbones | 20 lv |
| Whole face | 55 lv |
| Armpits | 30 lv |
| Whole arms | 80 lv |
| Half arms | 35 lv |
| Shoulders | 40 lv |
| Chest | 40 lv |
| Chest lines | 25 lv |
| Whole back | 80 lv |
| Half back | 50 lv |
| Back and Shoulders | 80 lv |
| Abdomen | 40 lv |
| Abdomen lines | 15 lv |
| Full bottom parts | 50 lv |
| Outer bikini | 25 lv |
| Full legs | 150 lv |
| Half legs | 70 lv |
| Waist | 30 lv |
| Whole body | 300 lv |
Price list - Men
| | |
| --- | --- |
| Cheekbones | 30 lv |
| Full face | 80 lv |
| Armpits | 55 lv |
| Whole arms | 100 lv |
| Full arms | 45 lv |
| Shoulders | 55 lv |
| Chest | 80 lv |
| Whole back | 100 lv |
| Half back | 65 lv |
| Back and shoulders | 110 lv |
| Abdomen | 60 lv |
| Abdomen lines | 35 lv |
| Full legs | 180 lv |
| Half legs | 90 lv |
| Waist | 50 lv |
| Whole body | 370 lv |